A home moving site in New Jersey, the client wanted a site which would simply showcase his business.
---
A hair salon in New Jersey, the owner wanted a simple site which would supply interested clients with information about the salon's services.
---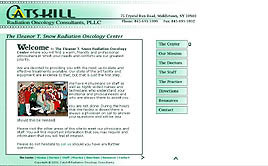 A Radiation Oncology practice in New York State, the client wanted a warm atmosphere which would convey their orientation to the individuals who must use their services.
---
A Medical Practice Management Corporation in New Jersey, this site uses I-frames, a splash page, and chromeless windows, to organize the structure and function of this business. Not completed.
---
This site showcases an entertainment company. There is a great deal of text which highlights the important aspects of this business. To maintain a better look and feel, it is set in I-frames and with a splash page for optimum navigation. Not completed.
---
The client wanted a circus look and feel to the site and chose his own colors which were then adapted to the pages and navigational elements. The site is still a work in progress.